If you like this recipe come back on www.happystove.com and rate it!
Farfalle Pasta with Sausages, Mushrooms and Red Bell Peppers - Recipe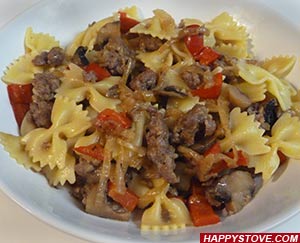 Farfalle Pasta with Sausages, Mushrooms and Red Bell Peppers are an exquisite idea for a quick and easy pasta recipe. With the spiced taste of sausages, the yummy flavor of bell peppers and mushrooms this pasta will be a hit on your dinner table.
Stats:
Preparation time:

20 minutes
Cooking Directions:
Wash, clean and cut in strips the red bell peppers. Wash and slice the mushrooms. Thinly slice the onion.
Crumble the sausages by removing the skin and breaking apart the meat.
In a large non stick pan, heat the extra virgin olive oil and stir fry the onions until lightly brown.
At this point add the red bell peppers and cook for about 3-4 minutes.
Add the crumbled sausages and saute, stirring frequently, to brown the ground meat.
Add the sliced mushrooms and let cook for 1-2 minutes or until they wilt. Adjust with salt and black pepper to taste.
In the meantime, heat the water for the pasta. When boiling, add salt and cook the pasta as directed on the box.
Drain the farfalle pasta and stir fry with the Sausages, Mushrooms and Red Bell Peppers sauce in a big pan for 1-2 minutes on high flame.
Divide into serving dishes and serve the pasta immediately. if desired top with some Pecorino Romano cheese.
Tips:
For this recipe Breakfast sausages, Italian or bratwurst are suggested.
Farfalle Pasta with Sausages, Mushrooms and Red Bell Peppers is tagged as: