If you like this recipe come back on www.happystove.com and rate it!
Farfalle Pasta with Seasoned Tuna and Green Beans - Recipe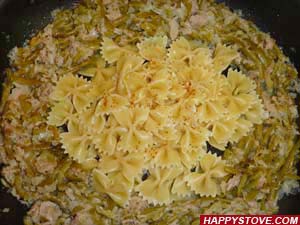 This recipe for Farfalle Pasta with Seasoned Tuna and Green Beans is a tremendous idea for turning your everyday meal in something special. Enjoy this unique seafood seasoning that enhances and highlights the flavors of this pasta sauce.
Stats:
Preparation time:

15 minutes
Ingredients:
To browse other recipes using that ingredient click on the
Cooking Directions:
For the sauce seasoning:
Using a mortar and pestle (or in alternative a good grinder) finely grind together salt, thyme, cloves, celery seeds, bay leaves, black pepper and allspice. Add the grated nutmeg.
Balance the flavor according to your preferences by changing the amounts of each herb and spice to obtain a perfect seafood seasoning.
For the pasta and the sauce:
Drain the tuna and set apart the olive oil to saute the onion. In a small bowl crumbled the tuna with a fork.
According to your preferences, add some or all the previously prepared seafood seasoning to the tuna and mix well.
Bring the water to boil in a pot big enough to cook the Farfalle pasta. When boiling, add the salt, the pasta and cook until al dente.
In the meantime, chop the onion. In a large skillet saute the onion with the tuna olive oil, previously drained from the can. Cook until lightly caramelized.
Add the drained green beans and saute for additional 1-2 minutes stirring frequently.
At this step, add the seasoned tuna. Stir fry for 1-2 minutes, mixing continuously. Remove from heat. Add some extra virgin olive oil if too dry.
When the Farfalle pasta is ready, drain and dress with the seasoned tuna and green beans sauce. Serve hot.
Tips:
Choosing a quality yellow fin canned tuna in olive oil is the secret for this recipe.
You can add some crushed red peppers or Aleppo red pepper to the seasoning for a spicy version of this recipe.
Try this balanced and well flavored seasoning on many other seafood dishes including salmon and oven baked tuna.
Farfalle Pasta with Seasoned Tuna and Green Beans is tagged as: