If you like this recipe come back on www.happystove.com and rate it!
Farfalle Pasta with Zucchini and Bacon Sauce - Recipe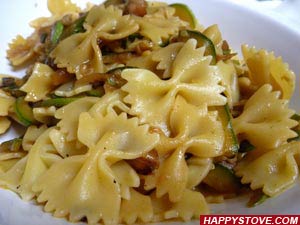 Farfalle Pasta with Zucchini and Bacon is an easy and yummy recipe for your pasta. Enjoy the salty taste of bacon combined with the lightly bitter zucchini flavor for a superb sauce.
Stats:
Preparation time:

25 minutes
Cooking Directions:
In a large pot, bring to boil enough water to cook the farfalle pasta. When boiling, add salt and cook the pasta until al dente.
In the meantime, wash the zucchini, peal them (if desired) and cut them in thin slices.
Cube the bacon and finely shred the onions.
In a large skillet, caramelize the onions in some extra virgin olive oil.
When the onions are golden brow, add the cubed bacon and saute for one minute.
At this point add the sliced zucchini and cook, with the lid closed, for about 5 minutes, stirring frequently.
Remove the lid and evaporate the liquid (if any) in excess. Adjust with salt and pepper.
When ready, drain the pasta and transfer to the skillet to saute the farfalle with the zucchini and bacon sauce for half a minute.
Serve hot garnishing with some shredded zucchini.
Farfalle Pasta with Zucchini and Bacon Sauce is tagged as: