If you like this recipe come back on www.happystove.com and rate it!
Sweet Pea Soup - Recipe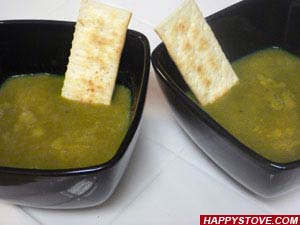 Enjoy a delicious and healthy Sweet Pea Soup that you can easily cook following this easy recipe. Perfect for the cold winter nights as main dish or starter for your dinner.
Stats:
Preparation time:

20 minutes
Cooking Directions:
Clean and wash all the vegetables. Chop onions and garlic finely. Cut bacon into small pieces.
Saute the onion in a large non stick pan at medium heat with the oil.
When the onion wilts, add the cubed bacon and the sweet peas. Cook for few minutes until the bacon is browned and the peas soften a little.
Take the pan off the heat and with an electric blender reduce to a puree.
Pour the puree into a saucepan adjusting with hot water to achieve the desired consistency. Add the chicken bouillon and bring to boil. Cook for additional 2-3 minutes.
Serve hot with some saltine crackers or topped with melting cheese.
Tips:
You can use chicken broth instead of the bouillon.
You can use frozen, fresh or dried peas as well. For dried sweet peas, use about 1/3 of the amount called in this recipe.
Sweet Pea Soup is tagged as: