If you like this recipe come back on www.happystove.com and rate it!
Traditional Lasagna - Recipe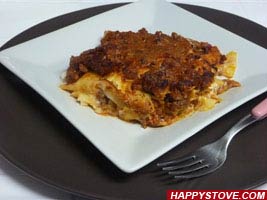 A true classic of the Italian tradition in this delicious lasagna recipe with layered homemade bolognese sauce, lasagna sheets and bechamel sauce.
Stats:
Preparation time:

40 minutes
Ingredients:
To browse other recipes using that ingredient click on the
Cooking Directions:
Prepare in advance the Lasagna Sheets (How To Make Homemade Flat Lasagna Sheets ↪), Bolognese Sauce ↪ and Bechamel Sauce ↪ following the instruction reported in this website.
In a large pot boil the water, add the salt and briefly cook the lasagne sheets until they are soft. Be aware, it takes less than 5 minutes.
In dry lasagna pan (11x8), ladle 2 tablespoons of bolognese sauce and spread along the bottom of the pan. Apply a layer of the previously cooked lasagna sheets to cover the bottom of the pan. Ladle enough bolognese sauce to cover the lasagna layer. On the bolognese sauce ladle few spoons of bechamel sauce followed by slices of ham. Cover the ham with few slices of mozzarella cheese.
Apply a second layer of lasagna sheets, followed by bolognese sauce, bechamel sauce, ham and mozzarella cheese as described in step 3.
Apply a third layer of lasagna sheets, then cover with the remaining bolognese sauce.
Spread the grated cheese to cover the entire bolognese sauce.
Bake at 375 F for 40-50 minutes. Allow to cool before serving.
Tips:
Lasagna sheets may be bought ready to use. Better results can be obtained precooking them quickly as described on step 2.
Homemade bolognese sauce can be substituted with commercial one but we strongly suggest you to prepare it by yourself. Harder work, but the result will be stunning!
Flavor greatly improves for second service. Just heat the lasagna in the conventional oven at 375 F for 15-20 minutes or until hot inside. To test it, quickly put a fork within the layers. When the reheated lasagna are ready, the fork will be hot on the tips.
Traditional Lasagna is tagged as: