If you like this recipe come back on www.happystove.com and rate it!
Oven Baked Radicchio - Recipe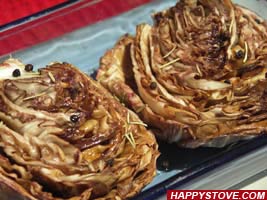 Oven Baked Radicchio is the recipe for a great red wine flavored starter or a delicious side dish. The bitterness of the radicchio well matches any red meat dish.
Stats:
Preparation time:

10 minutes
Cooking Directions:
Wash and dry the whole radicchio bunches. Cut each radicchio bunch in halves and lay them in a baking pan.
Add salt, pepper and rosemary.
Pin few cloves within the radicchio.
Pour the extra virgin olive oil on top of the radicchio.
Repeat with the red wine.
Cover the baking pan with aluminum foil
Cook in the preheated oven at 400F for about 20-25 minutes or until ready.
Serve hot.
Tips:
When cutting the radicchio do not remove the stem because it helps to maintain the vegetable in a compact shape.
Oven Baked Radicchio is tagged as: