If you like this recipe come back on www.happystove.com and rate it!
Ricotta Cheese Crostata - Recipe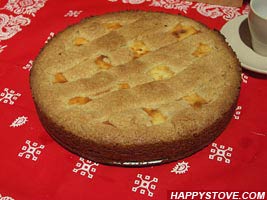 Ricotta Cheese Crostata is a delicious traditional Italian pie with a rich and full taste. Made with simple and wholesome ingredients and prepared from scratch, this dessert is perfect when enjoyed with your choice of coffee or hot tea.
Stats:
Preparation time:

45 minutes
Ingredients:
To browse other recipes using that ingredient click on the
Cooking Directions:
Prepare the shortcrust as described at the link Shortcrust (Pasta Frolla) ↪.
Before starting, briefly wash the raisins and dry them gently with a kitchen cloth. Spread some all-purpose flour on them.
In the meantime, preheat the oven at 350 F.
To prepare the filling, mix well the ricotta cheese, the sugar, the egg white, and the salt in a bowl. Add then the rhum, the vanilla extract and the raisins. Mix to obtain an homogeneous filling.
In a circular pan, add some flour on the bottom and along the walls. Lay about 2/3 of the previously prepared shortcrust to cover the bottom and the side of the pan.
Spread the ricotta cheese filling on the dough in the pan.
Roll again the remaining pasta frolla (shortcrust), cut the sheet into half-inch strips and lay the strips in a crosshatch pattern over the ricotta filling.
When done, lay a thin ring of dough around the border of the crostata and tamp it down with your fingers.
Cook in the oven for about 45 minutes or until the pie is ready.
Tips:
For a better visual result, tamp the ring of dough with a fork instead of your fingers
Serve this crostata with ricotta together with fresh fruit like grapes to obtain a tangy, delicious, contrast of flavors.
Ricotta Cheese Crostata is tagged as: