If you like this recipe come back on www.happystove.com and rate it!
Battered Brie Cheese with Plum Marmalade - Recipe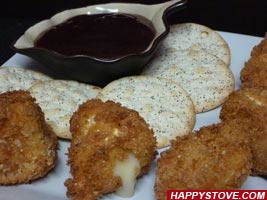 Battered Brie Cheese with Plum Marmalade is a delicious French recipe. The unusual match of plum and cheese will set great course for your dinner or as cocktail finger snack. Enjoy it with a robust red wine.
Stats:
Preparation time:

10 minutes
Cooking Directions: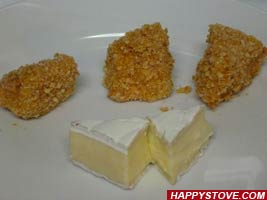 Cut the Brie cheese in small triangular pieces (about 1 inch wide and long) and set apart.
Place the eggs in a small bowl and mix them well with the help of a fork. Place the grated bread in a second bowl.
Batter the Brie cheese by dipping the pieces in the eggs and then in the grated bread. Roll each piece in the butter twice to obtain a thicker crust: this helps the cheese to stay in shape.
Heat the vegetable oil and deep fry the battered brie pieces for about 1-2 minutes or until golden brown outside.
Remove from the oil and dry them with the help of some paper towels. Serve hot while the battered Brie cheese pieces are still melted inside.
Serve with a side of plum marmalade at room temperature as dipping sauce.
Tips:
You can also serve the battered Brie cheese with figs jam.
Battered Brie Cheese with Plum Marmalade is tagged as: